Technical Support From Tetrabyte: Terrific!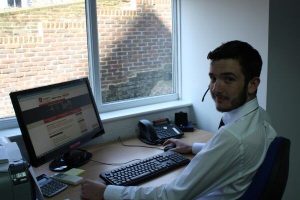 At Tetrabyte, we place a premium on awesome customer service while providing outstanding remote technical support. We make it our priority to solve everyday issues that arise in your workplace every time we pick up the phone, with unlimited service and solutions no matter how minor or grand. Our mission is to make your business life more manageable and much easier.
We also offer preventative services through our proactive monitoring, analysing your servers and workstations behind the scenes for potential problems that can be avoided.
We stake our reputation on the trusted relationship we develop with our valued clients. Instead of waxing on about our commitment to service, we'd like to offer some testimonials from some very satisfied customers:
Debbie Hargreaves, FCA Sellens French Chartered Accountants:
"We have worked with Tetrabyte for about seven years now and have found them to be brilliant. As somebody that isn't the most IT literate, I have found them to be extremely helpful, patient and supportive. The remote access support has enabled our network to operate smoothly and consistently without any down time, which is essential. I already recommend the Tetrabyte team to clients and will keep doing so."
Murray Greenhill, Technical Sales and Programming:
"Not long after I started my current employment at Charter Controls I noticed that the level of IT support we were receiving at the time was not very efficient and we had long waits to get things done. I looked into this a bit further and realised it was also really expensive too. I had already heard about Tetrabyte from my previous employment so gave them a call and we have not looked back ever since. The guys are always at the other end of the phone and log straight in remotely to fix the problem there and then (no down time). Whatever is necessary to get the job done the team at Tetrabyte will do it."
Every time we disconnect from a computer it asks our clients for optional feedback, and we compile it for continuous quality improvement. Some of the more recent comments to our enquiry:
"What aspect of our service impressed you most?"
Fast response and polite chap.
RESOLVING THE PROBLEM QUICKLY
Martyn was calm and patient, and of very knowledgeable
Expert knowledge and quick solution to my problem
Quickly resolved
Friendly, supportive, knowledgeable and helpful staff.
Speed & Knowledge
Ability to retrieve information
Everything
Expertise and Rapidity
Steve's helpfulness and patience
Speed, patience and understanding of the problem without even looking at the screen in question.
Steve's Charm!!
How quick Ashley returned my phone call and resolution of the problem!
Polite and courteous as usual, promptly dealt with, again as usual. Thanks Steve!
I rang at 9am, Martyn answered with 3 rings and the printer was loaded and ready to go in no time. As always polite, knowledgeable and can do right now approach with a friendly and approachable personality never leaving me thinking that I am silly for calling even on the most simple of tasks.
Our team is always on call for your technical support needs on our free UK number (0330 900 1066). Chat us today to discuss how we can partner to take your It Support Services to a whole new level. Soon you'll be working at your desk to a tranquil background of ocean surf knowing Tetrabyte is acting as your company's IT security blanket.